Post by Victoria Marx on Sept 6, 2008 21:19:14 GMT
Any other Character? If so, who?
Zeke Richter
code word
Amber
About Your Character
Name
- Victoria Marx (Most people call her Tor or Tory)
Age
- 17
Year
- 7th
House
- Gryffindor
Political veiws(Death eater, order, neutral)
- Order
Appearance
Celebrity
- Alexz Johnston
Picture
-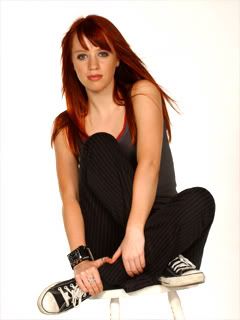 Eye Color
- blue
Hair Color
- Red
History
Born on the fourth of September to Richard and Leanne Marx. Both are successful aurors and respected members of the magical community. She also has an older brother: Kevin. He was the top student in his Transfiguration and Care of Magical Creatures classes at Hogwarts and moved on to work with dragons in Romania.
During her time at Hogwarts Leanne was a Ravenclaw Prefect as well as Head Girl. Wheras Richard was the laid-back flirt and trouble-maker from Gryffindor. They often butted heads and didn't get along until they began working together as Aurors.
As such she has been brought up to support the Order of the Phoenix. As well as to be open and proud of her beliefs.
Life was pretty normal up until Victoria lost her parents after a battle with a group of dark wizards. She was five years old and went to live with her brother in Romania for the next six years until she received her invitation to Hogwarts. Kevin took Victoria out to a restaurant and paid for all of her supplies as well as getting her a pet cat to celebrate. They named the cat Ajax.
She usually stays in the school for holidays except during the summer because it's too awkward to travel all the way to Romania and back for such a short period of time.
Victoria's first year at Hogwarts was pretty uneventful although she managed to make a couple of friends. But then at the beginning of her second year she started dating a Ravenclaw first year called Zeke. This lasted for about three years and after they broke up Victoria stayed friends with him but eventually they did drift apart.
Even though they were no longer actively friends Victoria always sticks up for Zeke when people talk about him behind his back. His coming coming out of the closet also prompted her to admit that she didn't particularly care what gender a person was: if she fell for them then that was that.
Victoria always does her best with all of her subjects because she wants to be an auror like her parents. And also to make her big brother proud of her.